Unifying Data Retention and Access for Structured and Unstructured Data
sponsored by Dell, Inc.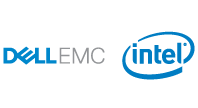 ABSTRACT:
The Dell DX Object Storage Platform helps organizations address both business and technology challenges. The platform delivers business value through cost-effective data accessibility, data availability, and support for regulatory compliance. It also contributes to a minimized TCO based on the combined efficiencies of optimized hardware and software, enabling organizations to drive down the cost per terabyte of keeping data online and accessible for business agility. Read this brief white paper to learn more.
(THIS RESOURCE IS NO LONGER AVAILABLE.)