Increase the Processing Power Behind Your Mission-Critical Applications
sponsored by Dell, Inc.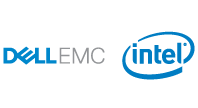 ABSTRACT:
Today's businesses rely on Exchange and SharePoint to keep pace in an increasingly connected workplace. However, these platforms have very specific and intensive processing requirements that are difficult for organisations to meet without a significant investment in resources. This executive brief follows the evolution of the collaboration landscape and showcases a server architecture that delivers the necessary processing power at a price point you can afford.
(THIS RESOURCE IS NO LONGER AVAILABLE.)